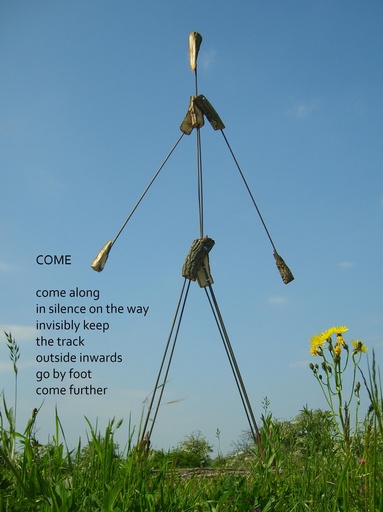 Once upon a time there came to being this wanderer. Thought up by Dutch woodcarver Bart Ensing as an illustration of the present use of fortresses, the wanderer made up his own mind, gathered some words from Dutch poet Marion Steur and went.
He wanders where he likes and even made a boat trip. Touched as he was by the warm welcome of the skipper, he was excited about being on the water, got under the spell of the rocking of the boat, but he is too curious about the land and longs to move. People, art, nature. Meet, connect and be on his way.
Made from raw poplar wood and reinforcing bars, he is 12 feet tall, he wanders his way through real-life and social landscapes, is fond of art, announces exhibitions and invites people to visit these exhibitions.
He likes company, he has more than 1,250 friends on Facebook, as long as he is free to submerge in silence as often and as long as he wants. His appearance makes people smile even more now that chances are growing the cookie with his portrait on it will be baked in a bakery instead of only by the woodcarver who carved a mould on impulse. The wanderer likes that himself as well, even though he lacks hunger and can't smell. He never eats, he lives on experience and he never needs painkillers for breakfast. Life is a pilgrimage.
The wanderer keeps wandering and invites you. Come along.
His original Dutch name is De Wandelaar (meaning: the wanderer) and that is how you can find him on Facebook.
You can get an impression of his journeys of YouTube.
For information regarding the creators of the Wanderer:

Bart Ensing, deVerbeelding, www.bartensing.exto.org

Marion Steur, Papieren Vliegtuig, www.papierenvliegtuig.eu